This site uses cookies to authenticate users and track usage and preferences.
By clicking "Accept", you consent to allow us to set cookies in your browser. Learn more about
our privacy policy
.
Intelligent Software as a Service
Technology
CPC/CPV XML & Direct Advertisers Solution, a leading white label Platform.
CPC and CPV advertising
Tools for traffic flows, viz. XML feed, Direct URL or Redirect JS.
Advanced XML metasearch that supports all known CPC and CPV XML-channels with the ability to add new channels, if requested;
Low (almost zero) delay in software, hardware and network support;
Optimized statistics tables and diagrams that improve performance;
Improved optimization technique for configuring traffic and results, depending on your campaign's goals;
Dynamic pricing for publishers in bidding based on traffic source characteristics;
Traffic quality management for advertisers by virtue of close monitoring of quality data and users behavior;
XML API for partners' statistics;
Huge scalability and fault tolerance - there are almost no volume restrictions;
Flexible settings of traffic volume that will make its flow smooth and uniform;
The technology of traffic exchange, both inside the Wishmaster network, and with other XML advertising networks.
We offer a reliable optimization for both CPC and CPV real-time advertising that allows our customers to increase the amount of campaigns, monitor quality, productivity and profitability.
Media Buyers
Handy user panel, advertising channels' settings, reporting and billing system under your own business name.
Publishers
Our developers created the platform, so that you could maximize the value and profitability of your resource.
Advertising Networks
Everything that an advertising network needs to run the business competently, efficiently and productively.
Traffic & Ad Exchanges
If you buy and sell traffic, our solution is the perfect combination of quality, speed and outcome.
Cluster solution of volumes tasks ensures high speed of data processing in real time without delays and system failures.
Our platform allows integrating any statistics from your partners. Whether it's XML, JSON or different format, you will have an option to see consolidated data in one panel.
Excellent user interface design, handy navigation and service operation are oriented toward saving maximum time and efforts on setting up your advertising network.
Your partners will be able to use the most suited tools, viz. XML feed, Direct URL or Redirect JS.
Our extensive experience in database architecture, prediction, analytics and optimization allows to get top results.
Customer support is provided directly by engineering experts, who can quickly solve any problem.
Wishmaster is reliably protected by White Diagnostic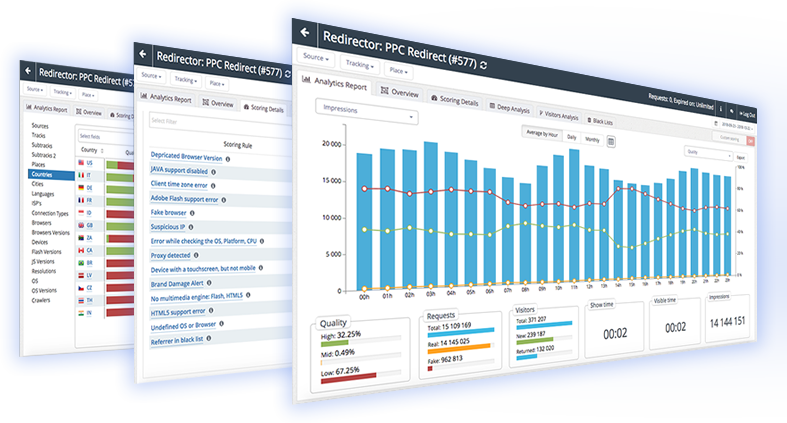 A distinctive platform feature is the availability of a complex anti-fraud solution for traffic analysis and its filtering from https://whitediagnostic.com. The service is integrated into the platform and does not imply any additional charge for its use. It is a powerful tool that serves to give you total control over any traffic type as well as to keep excellent and long-standing business relations with your traffic buyers.

A multipronged solution for efficient ad fraud prevention
About us
Wishmaster is a white label advertising platform that offers fast, efficient and multifunctional online advertising solutions for ad networks, ad exchanges, media buyers and publishers.
The Company's roots dated back to 2008, and for such a significant period, we reached a peak of optimization development in the field of digital advertising technologies and achieved excellent rapport with customers and partners.
We strive to be the market leaders in pay-per-click, display mobile and desktop digital solutions, helping our customers to achieve maximum revenue and efficiency.
Wishmaster was created from scratch, and includes many years of experience in building and optimizing of digital advertising technology.
The platform has been developed by the team of highly-experienced professionals, who keep pace with the times and constantly update and improve the service according to varied industry standards and customer requirements.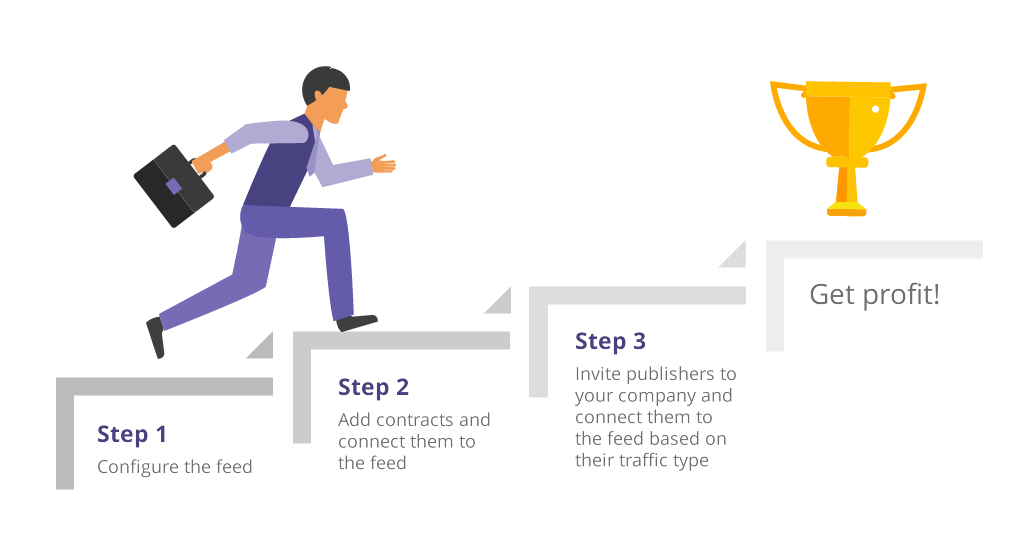 Meet us at the upcoming events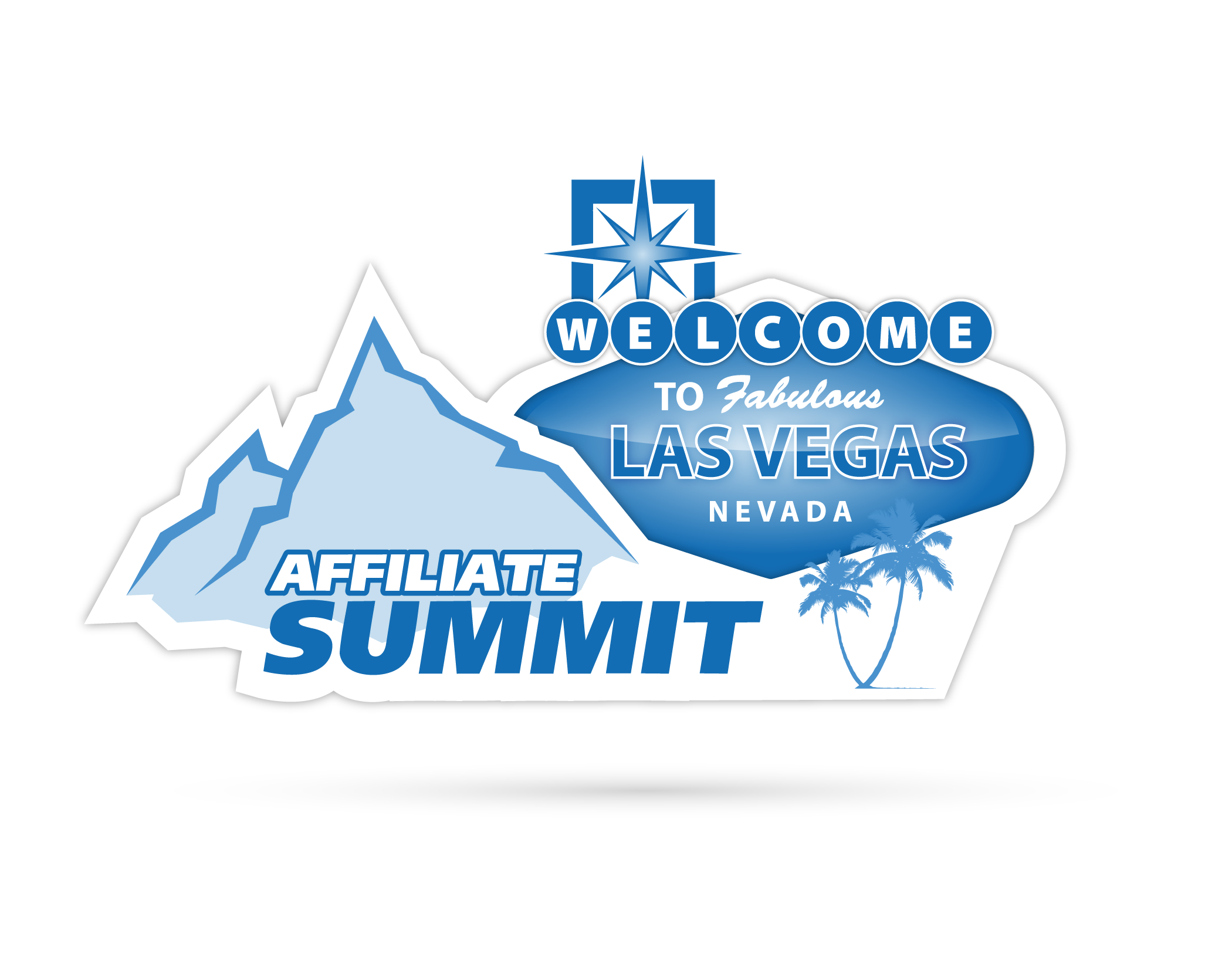 We are proud to provide effective solutions in the field of digital advertising for our customers and develop long-term professional relationships.
Contact us
Wishmaster Ltd
Bulgaria, Plovdiv 4000,

209 Shesti Septemvri blvd., floor 1, ap.1

general: info@wishmaster.io